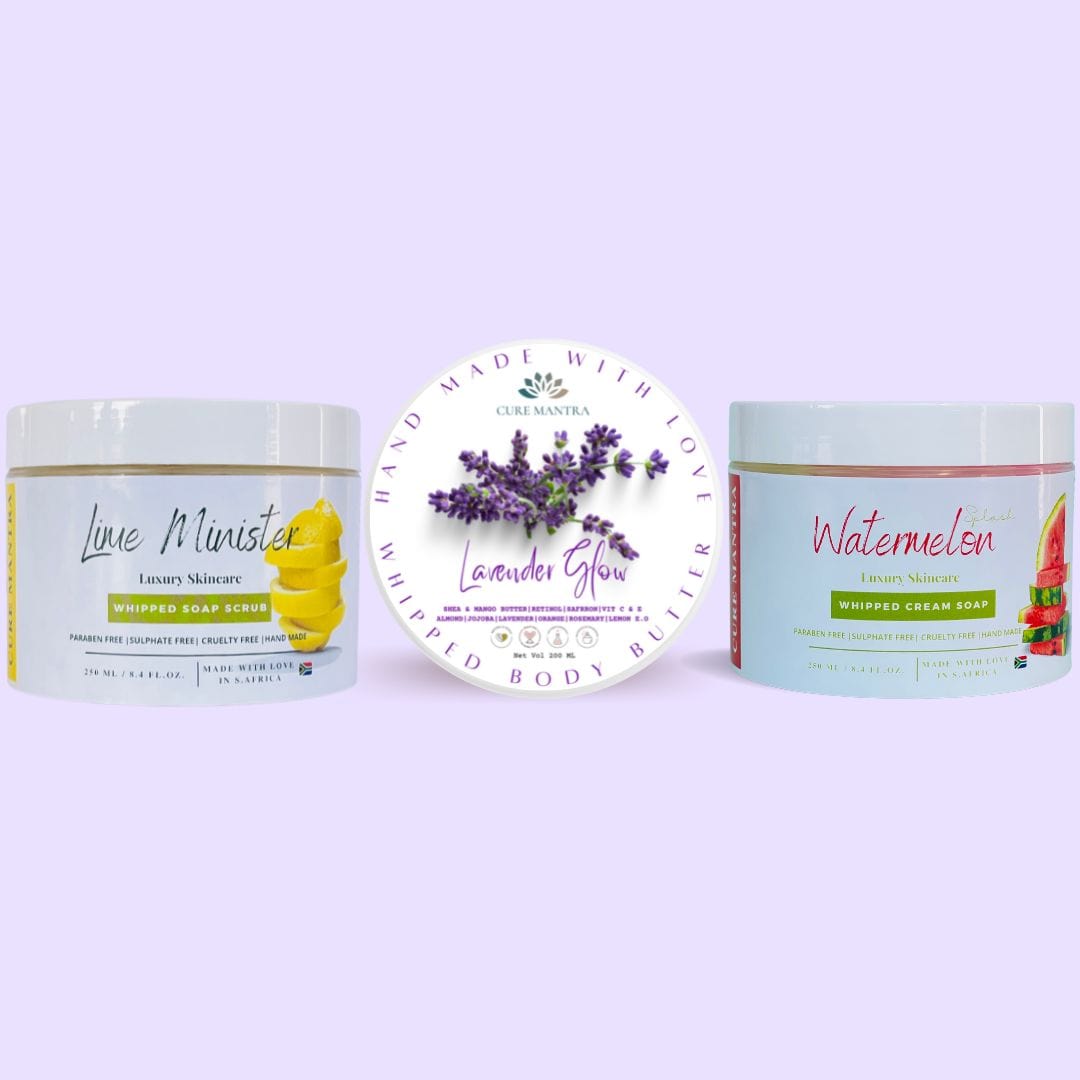 Eternal Glow Booster Kit
Sale price

R 735.00 ZAR
Regular price

R 735.00 ZAR
(/)
Eternal Glow Booster Kit | 

 Repair Your Skin And Achieve A Healthy Glow With Cure Mantra Skincare

Gorgeous, glowing skin has never been easier with our glow booster kit restores luminosity, promotes even skin tone, and recaptures the appearance of a healthy, youthful complexion. GLOW Booster provides intense moisture – the perfect combination for a beautiful and natural glow!


Note: As our body butters are formulated with plant oils and butters, sometimes it might melt in extremely hot temperatures during transit. You may refrigerate them to regain the desired consistency but do not put them in the freezer. Texture changes in 100% organic products happen naturally under fluctuating temperatures but this doesn't affect the product's Quality Due to its whipped nature, performance or shelf life in any way. Kindly store it in the fridge for a few hours before opening it for the first time.

Step 1 - SHOWER DANCE WITH

Watermelon Whipped Soap 

enhance natural skin glow and radiance and it's a natural & P.H Balanced  helps in brightening and removing dead cells and dust, moisturizes your skin like never before, gives you a super fresh look. 

Step 2 - LOVE YOUR  IN-SHOWER SCRUBS!

Lime Minister Sugar Scrub is a 

Vitamin C Booster: A powerhouse of potent antioxidants, Vitamin C neutralizes oxidative damage caused by the sun and pollution. It also promotes collagen production, resulting in skin that exudes a natural and youthful glow.

Step 3 - THE MAGIC BUTTER  FOR YOUR BODY

Antioxidant Skin booster - Lavender GLOW whipped booster mongo butter softens the skin. It contains vitamin A, an antioxidant that stimulates the skin's natural renewal process. 

It helps the skin to produce new, healthy skin cells, improves the skin's texture and elasticity, and protects the skin against damage caused by UV radiation

Directions for use:
Massage gently into affected areas & overall body. For best results (Should be used as often as necessary.)

WHAT SO SPECIAL ?

BENEFITS OF ULTIMATE 3 KIT

Filled with ingredients  like Mango butter, Vitamin C & E, Rosemary, watermelon, Kalahari melon, lime, Orange & Lavender that restores radiance and reduces signs of ageing.  When it comes to fine lines, wrinkles, and other signs of your skin's wear and tear. 

The Cure Mantra Glow Booster Kit has a perfect range of products to get that extra glow on your body. Vitamin E also stimulates collagen synthesis and, when combined with Vitamin C, provides antioxidant protection against UV-induced photo-damage and free-radical damage. Glow Booster kit has a revitalizing effect on the skin and helps to reduce brown spots and other discolouration, while our  Booster provides intense moisture – the perfect combination for a beautiful and natural glow!
SkinMush Skincare is committed to delivering an exceptional customer experience.

All orders placed between Monday-Friday are packed and sent out the same day or within 24 hours upon reciept.

Please not couriers do not operate on weekends.

Orders placed on the weekend will all be packed and sent out on Monday morning.

Shipping times.

Gauteng deliveries: 1-2 days

Durban, Cape Town and other main cities 1-3 days

Outlying areas 2-4 days
Choose options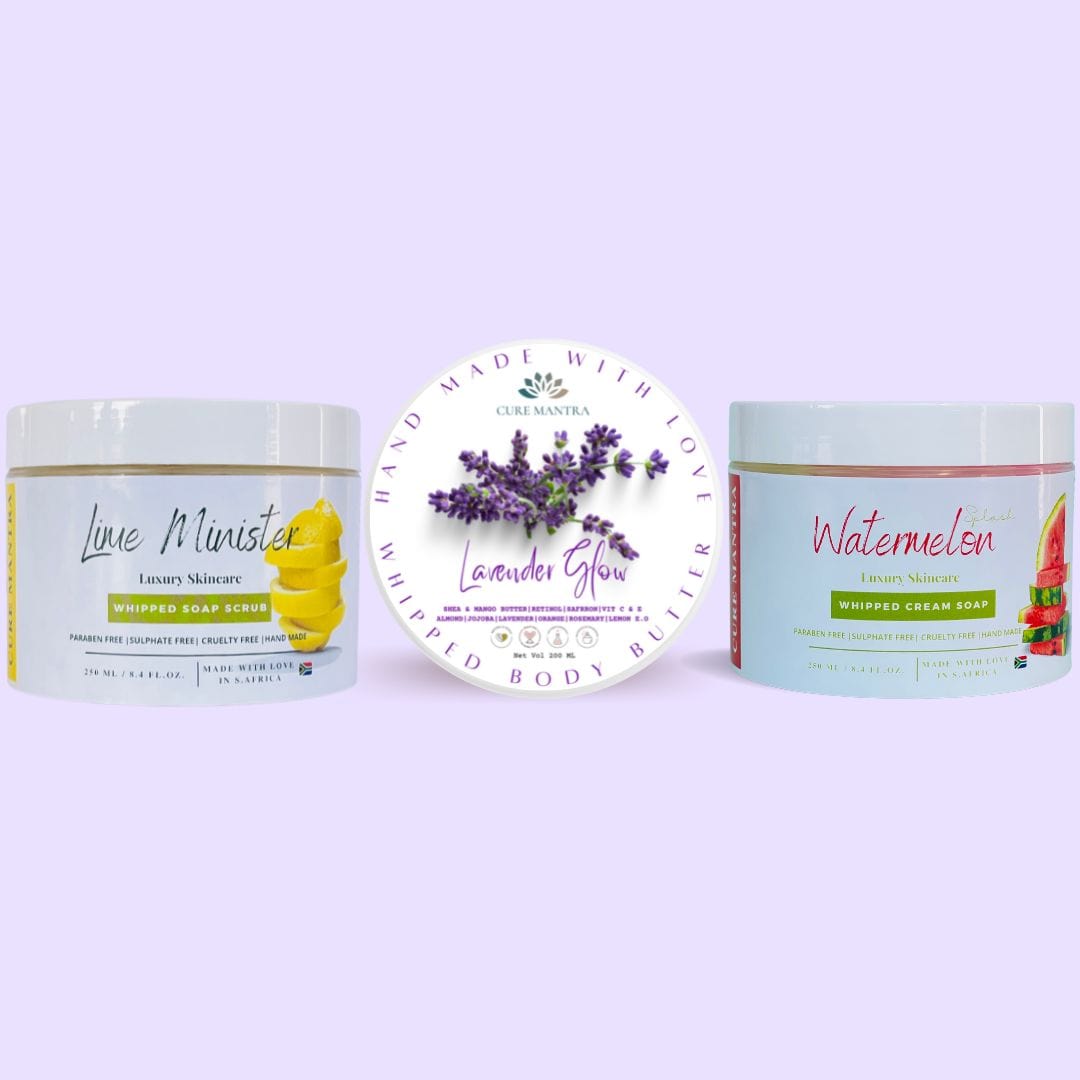 Sale price

R 735.00 ZAR
Regular price

R 735.00 ZAR
(/)
View details